Meet Eric Moss, Fitness Instructor, Personal Trainer, Team Captain, Head Coach, Owner
NJ Fitness Instructor, NJ Personal Trainer, RKC Certified Kettlebell Instructor, StrongFirst™
Eric Moss' qualifications.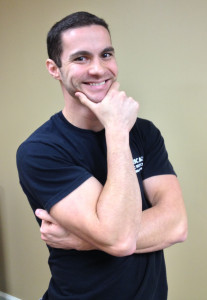 Author (Autobiography has all 5 star ratings)
Personal trainer since 2003 either holding or having held numerous prestigious certifications.
RKC Instructor under Pavel's leadership
Had been certified as a StrongFirst™ Kettlebell Instructor (SFG)
Had been certified as a StrongFirst™ Specialist in Body-weight Strength (SFB)
Certified in the Functional Movement Systems as a Level 2 Coach (FMS)
Selected by StrongFirst™ to teach at personal training certification courses both nationally and internationally
World Record Holding Performing Strongman/Inspirational Speaker 
Assistant Coach at the Breakthrough Strength Personal Development Workshop with Chris Rider 
As Seen on Late Night with Johnny P.

For 15 years Eric has been on a constant quest to learn consistently better ways of training both his clients and himself.
After being picked on and ridiculed in his youth, Eric found his self-confidence after seeing the benefits of weight training which gave him a passion for strength and fitness which became the inspiration for him to want to start training people to do the same.
When he first started as a personal trainer in the fitness industry he worked in an average everyday health club which at the time sported a power-lifting team that held several records. When the gym was bought by a guy who was successful on Wall Street, changes happened that changed it into a gym that limited people's potential in favor of catering to the mediocre.  The new rules in the place actually prevented people from getting the results they wanted. Eric Moss left not long after because it felt "wrong" and started running fitness boot camps bouncing around different locations in New Jersey.  Eric's personal training studio is currently in Boonton Township and he joined forces with Lewandowski Chiropractic.
The constant search for better ways of getting stronger led him to the fascinating subculture of performing strongmen where he learned strategies for going beyond self-imposed limiting beliefs for personal development.  Now Eric incorporates a unique mixture of the lessons he learned becoming a modern day performing strongman, trench tested training methods from an era before performance enhancement drugs and cutting-edge science and what he's learned from over a decade of experience training people and with several success stories even amongst the clients who had failed with other personal trainers before.

Eric keeps likes to keep a relaxed atmosphere in his place where people get strong, fit, lean and healthy as well as having a few laughs.

Eric Moss is available for:
Private Personal Training
Semi Private/Small Group Personal Training
Specialty Workshops for Police, Fire Fighters and Military
Subject Matter Expertise for select fitness facilities and emergency personnel.
Speaking to local business' and groups about health, fitness and goal achievement.
Any questions feel free to call or text 973 476 5328 him direct.
---
Meet Jill "The Jill Sergeant", certified Personal Trainer, Assistant, 2nd in command

Jill (the Jill Sergeant) moonlighted as a personal trainer in Parsippany New Jersey at LA Fitness and had hired Eric Moss to help her look her best for her wedding. In that time her progress was rapid as she was a coach-able, hard working student and was open minded enough to recognize that there is something new, different and amazing to his methods of training. Absorbing everything he taught her like a sponge and knowing him and his methods well enough to be able to figure out what he's thinking just from a funny look on his face, she was recognized as being a great trainer with a talent for teaching coupled with a personality that makes training fun and she was asked to join the Eric Moss Fitness team.
"Jill is the only person I trust to train my students when I am out of town. My students are very important and are in capable hands when they are with her." Eric Moss
In addition to the things she's learned from Eric Moss she brings her own unique skill set to the table.
Attended and passed W.I.T.S. Personal Trainer Certification Program in December, 2008
11/09: Fibromyalgia Specialist 6 credits
08/10: Lower Body Ball Specialist 6 credits
02/12: Posture Analysis Specialist 6 credits
10/12: Super Abdominals: Essential Rules of Excellence 4 credits
Jill is the one who subs for Eric if he's out of town and is available on an extremely limited basis.